Outerwear for Shorter Men (In-Depth Guide)
Shorter men often have trouble finding outerwear that fits and flatters their build. By "short" we mean below average height, which is around 5'10" in the U.S.
From topcoats that are too long to puffer jackets that are too, well, puffy, it seems like most outerwear is made with the taller man in mind.

This article is all about the DOs and DON'Ts of wearing outerwear as a short man. We'll talk about which types of outerwear work best, which ones to avoid, and what to look for in terms of fit.
The Best Coats and Jackets for Shorter Men
In our opinion, the 'not-so-tall' guy can wear almost any kind of coat or jacket he likes, with a couple of specific exceptions. We're not saying these are hard and fast rules. Think of them as principles that may be ignored freely, as long as they're understood.
Avoid Full Length Coats
Unless it's absolutely necessary, we think that shorter men should avoid wearing coats that go past their knees.
Granted, if your coat fits perfectly and/or your name is James Dean, you might be able to pull this off.
Source: GQ / Magnum Photos
But for most guys, this tends to make you look shorter than you really are. When in doubt, go with outerwear that hits right at mid-thigh or higher.
The classic thigh-length topcoat in grey, navy, camel or black is a great choice for pretty much every man.
Avoid Bulky Outerwear
We believe in function over form, always, and sometimes you need to wear a thick, heavy parka to stay warm.


But, in general, we recommend avoiding oversized, bulky jackets, if at all possible. Even with parkas, you can choose something that sits closer to the body and doesn't have too many bulky details.
A lightweight down jacket will have you covered for much of winter, depending on where you live.


Basically, we're just trying to avoid the George Costanza look shown above. The Michelin Man effect doesn't really flatter anyone, regardless of height or weight. But it's especially unflattering on shorter men.
Layer Up for Warmth
One way to do avoid super bulky outerwear is to use multiple layers for warmth. Keep each individual layer light and thin, and you'll have plenty of insulation without the extra mass.

Layering has some practical advantages as well. If you're too warm, you can remove one layer. If you're too cold, you can add a layer. Something like a parka is convenient, but it doesn't give you this kind of micro-adjustable temperature control.


Plus, layers look amazing. Layering truly is one of those secrets that every stylish person knows about and uses to his advantage.
Layers create visual interest and allow you to play with colors and textures. When in doubt, layer up!
Watch Your Sleeve Length
The toughest part about finding outerwear that fits a shorter build is the sleeves. If you're under 5'10" and have average arms for your build, chances are most off-the-rack coats are too long in the sleeves, even if they fit everywhere else.
Yes, you can get sleeves shortened, but with most outerwear this is usually a complicated and expensive alteration.

For example, if you buy a down jacket and want to get the sleeves shortened, you need to find a tailor that knows how to handle this type of garment. If the tailor doesn't know what they're doing, they'll compromise the insulation, wind proofing and/or water proofing of your coat.

It's much, much easier to buy coats that have the correct sleeve length to begin with.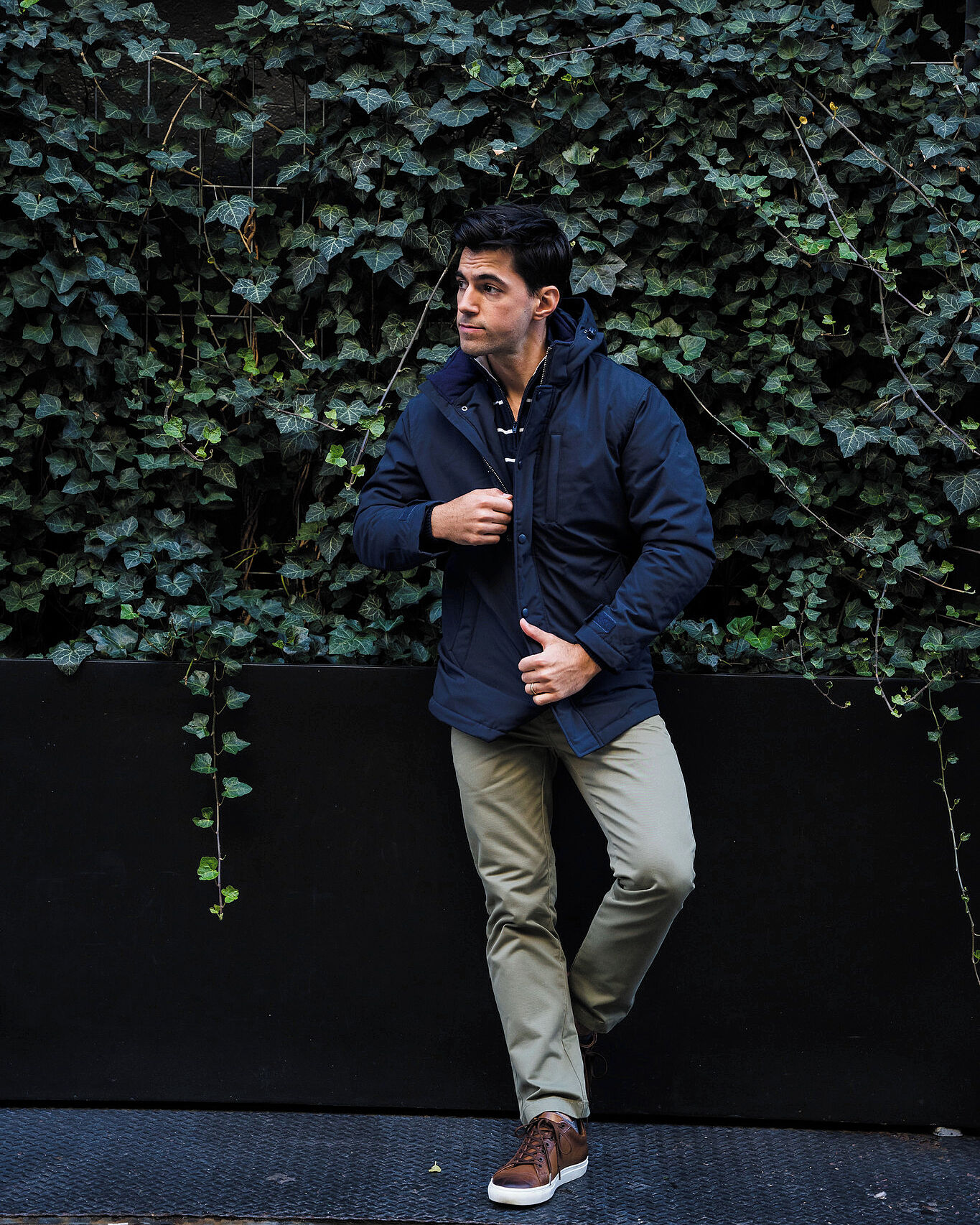 Ideally, your coat sleeves should end right around your actual wrist. It's okay if they a little past your wrists, but they shouldn't hang down around your palms or go past your hands.


Sleeves that are too long create a "kid wearing hand-me-downs" effect, which isn't good for any man, regardless of age.
Trim the Fat
We don't advocate wearing skinny fit coats or buying clothes that are so tight that they're uncomfortable or restrictive. Comfort is paramount, especially when it's cold outside!
But we also don't think anyone should wear coats that are too big for them. When shorter guys wear oversized clothes, they run the risk of looking like a kid playing dress up. This is especially true for smaller guys who look younger.
Most guys (short or tall) could definitely size down. We meet a lot of guys here in the PMNYC Fit Shop who think they're a Medium, but they're really a Small. Or they've always worn a 30 inch inseam even though they look amazing with a 28 inch inseam.
Next time you're trying on a coat, try sizing down. It might feel a little snug at first, but this is just due to the lack of excess fabric (which you don't need).

Once you get used to it, you'll look and feel a lot better - we promise.
Scaled Down Details
With something like a lightweight down jacket or "puffer" coat, keep an eye out for scale. Here's what we mean:

Almost all down jackets have some sort of quilted pattern: horizontal lines, diamonds, squares, etc.

These patterns have a certain scale (i.e., wide stripes or small squares). Shorter and small men look best in small scale patterns (thin lines vs. thick lines).


For example, the PMNYC Down Jacket has a classic quilted pattern of horizontal lines, but the lines are thin. This is intentional, as we designed it to flatter the shorter build.
That's not to say small scale patterns don't look okay on taller guys. They absolutely do. But the opposite doesn't hold true - large scale patterns aren't the best choice for shorter gents.

Same goes for other details like the pockets. Oversized details will only make a smaller guy look smaller.
Best Outerwear for Shorter Men (Top 3 Picks)
Here are some great coats for guys who are below average height:
The Topcoat
Assuming the length is correct (ending right around mid-thigh), the classic wool-cashmere topcoat is a great choice for shorter guys.


Single breasted and free of unnecessary clutter, the topcoat creates a handsome, streamlined silhouette that's perfect for dressy or casual settings.


Just make sure the sleeves aren't too long!
The Leather Jacket
Most leather jackets are pretty fitted and hit just past your waist. This is a great fit for shorter men.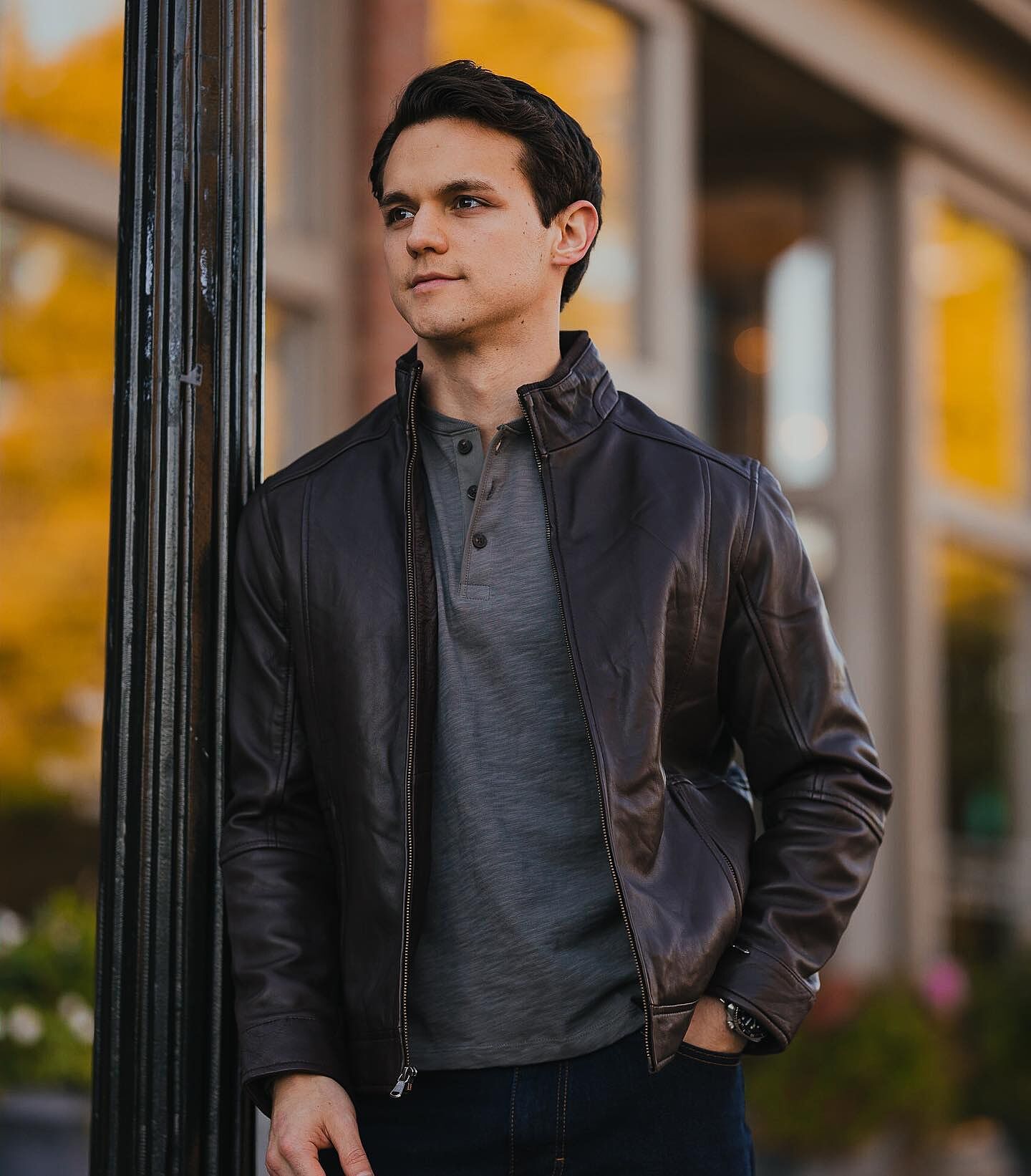 Leather jackets are decidedly more casual than topcoats, and they don't provide as much insulation. But that makes them perfect for fall and spring, especially if you like casual and smart casual outfits.
Of course, they have to fit well. If you're a shorter guy, watch that the sleeves dont' go past your wrist bone!
Lightweight Down Jacket
An excellent alternative to bulky parkas, a lightweight down jacket can keep you warm all winter if you wear it right.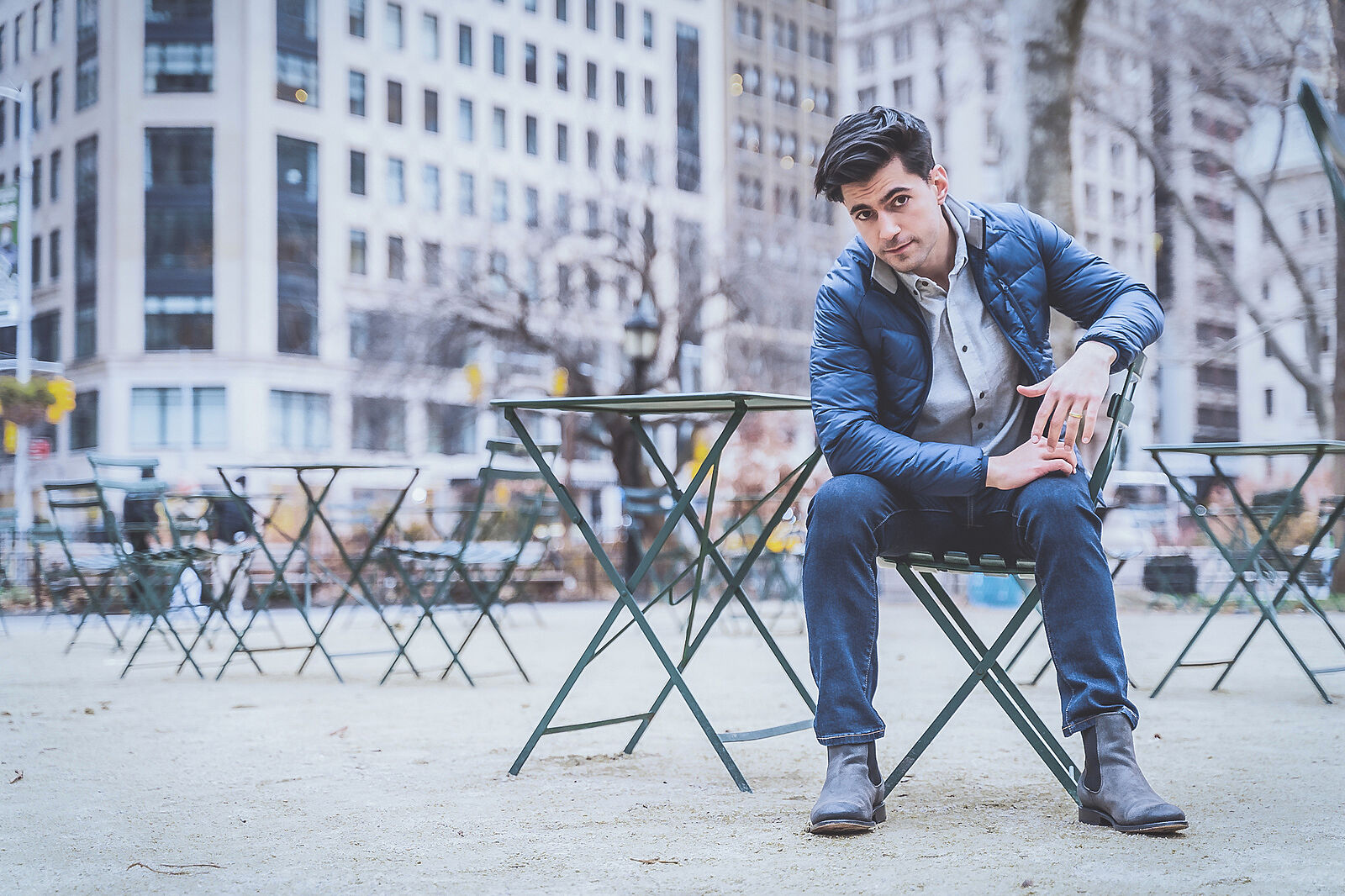 We like wearing warm base layers (like long underwear and long sleeve, undershirts or Henleys), then throwing a down jacket over something warm like a wool sweater or flannel shirt.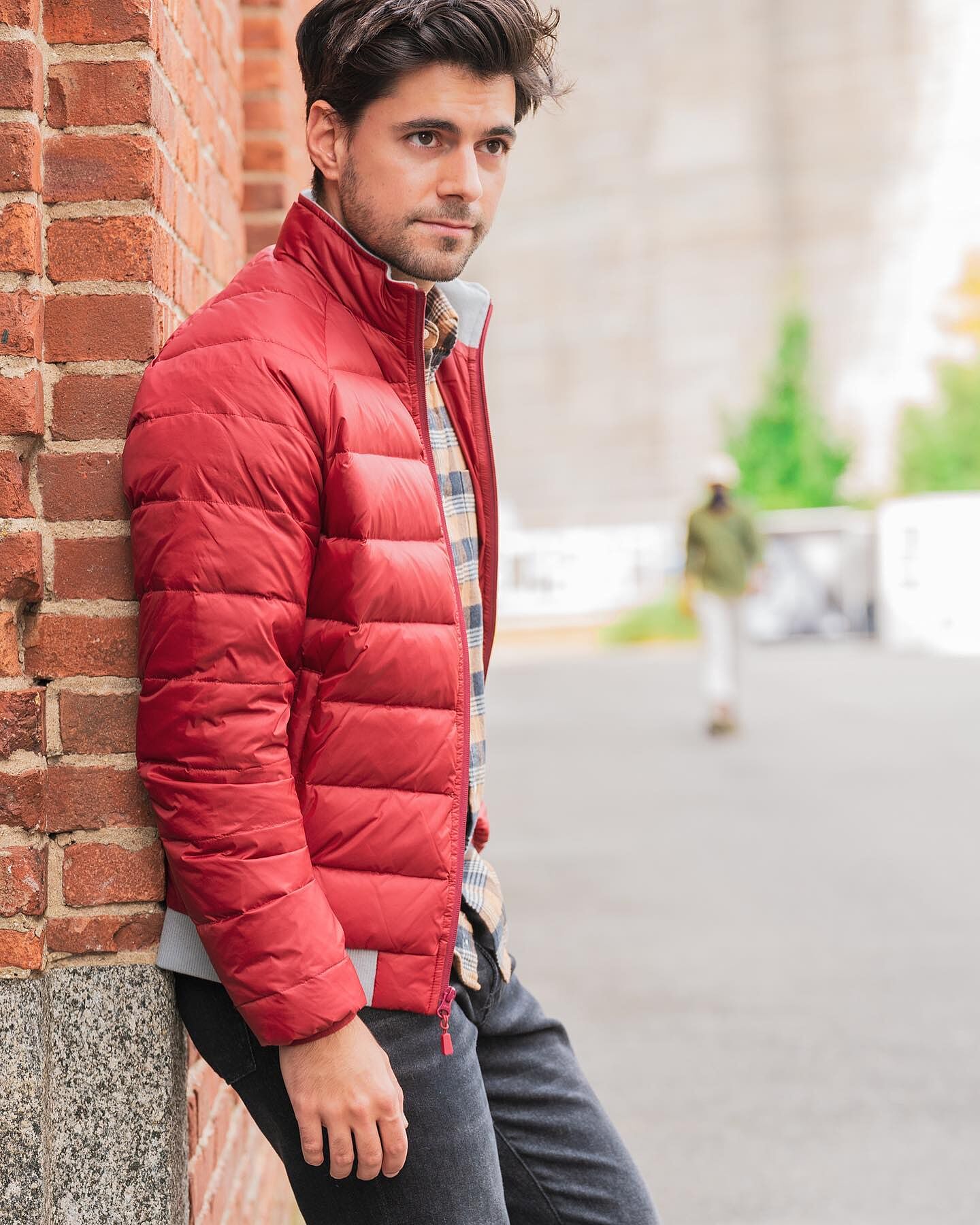 Combine this getup with a hat, gloves and scarf, and you'll be good to go in freezing temperatures. Plus, you don't run the risk of looking like George Costanza (did we mention this isn't a great look?).
Other Options
Shorter men also look great in quilted jackets, raincoats, bomber jackets, parkas (as long as they're not too bulky) and peacoats, so don't ever feel like your options are limited due to your stature.
Just remember: it's all about fit. Fit is the most important aspect of style. If your clothes fit, you're going to look great. If they don't, then nothing else really matters (price, brand, colors, etc.).

Focus on fit, and shop with brands that understand fit, and you'll look and feel great.

If you're a shorter man, be sure to check out Peter Manning NYC to browse the largest selection of outerwear for short men in the world.