How to Dress Appropriately for Your Age
"Act your age, not your shoe size." 
—Prince Rogers Nelson, Singer, Songwriter, Musician & Producer (1958–2016)
What's the fastest way to look older? Just wear something out of date. (Men who keep the same suits for decades—we're looking at you.) In an article entitled "The Six Signs You're Not Dressing Appropriately for Your Age," the Huffington Post recommends this quick test for men: Since suit jackets are increasingly tailored, you should be able to just fit your fist from your chest to the lapels when they're buttoned. If there's still room, your suit jacket is not only an older style, but simply too big. 
Besides the importance of fit, wearing what's right for one's age starts with a process of elimination. Covering what not to wear and what to opt for instead, we offer tips for men from ages 30 to 50 and beyond. 
Over 30
First, the editors of Who What Wear, a global fashion content site owned by London-based media production company Future, recommend skipping cargo shorts altogether. At Peter Manning, we agree that for shorter guys, cargo shorts are often too long and excessively baggy. Full transparency: We're currently in the process of adding cargo shorts to our merchandise mix, and as with our entire collection, the key is to ensure proper fit and length. For cargo shorts, make sure the hemline doesn't fall below the knee. 
And while light-wash jeans work well with polished separates, leave anything with ripped details and/or significant distressing to Gen Z. Another go-to option: dark-wash, straight-leg jeans: 
While conveying a more polished aesthetic, they're ideally suited for remote work or casual Fridays at the office. And for outerwear, skip windbreakers and opt for a forever-in-fashion bomber jacket instead. 
Among Who What Wear's additional fashion don'ts: basketball shorts. Replace them with slim jogger pants:
for an equally sporty and casual yet more elevated look for weekends. While they're fine for the gym or beach, steer clear of tank tops in favor of simple T-shirts for a classic take on relaxed style.
Similarly, unless you're attending a game at your alma mater, resist the urge to wear any fraternity-themed apparel. Instead, stick to on-trend (and more mature) athletic-inspired pullovers:
Over 40 
In general, age-appropriate dressing means striking just the right balance between neither too young nor too old. Even if a fit 40-something man can still squeeze into low-slung pants with his boxer shorts exposed (a look clearly intended for Gen Z), it doesn't mean he should. (Trust us—he definitely shouldn't.) At the same time, pleated pants can sometimes appear dated and add years to your look; and for our guys, the excess fabric created by pleats often serves to make you look shorter and wider. The universally flattering, perennially style-conscious solution: fitted, flat-front pants. 
Best Life, a lifestyle site from Rodale, Inc., covers fashion, grooming and an array of relevant topics for men over 35. First on its list of fashion crimes: While head-to-toe pastels evoke an Easter egg, pale hues balanced by darker colors are acceptable: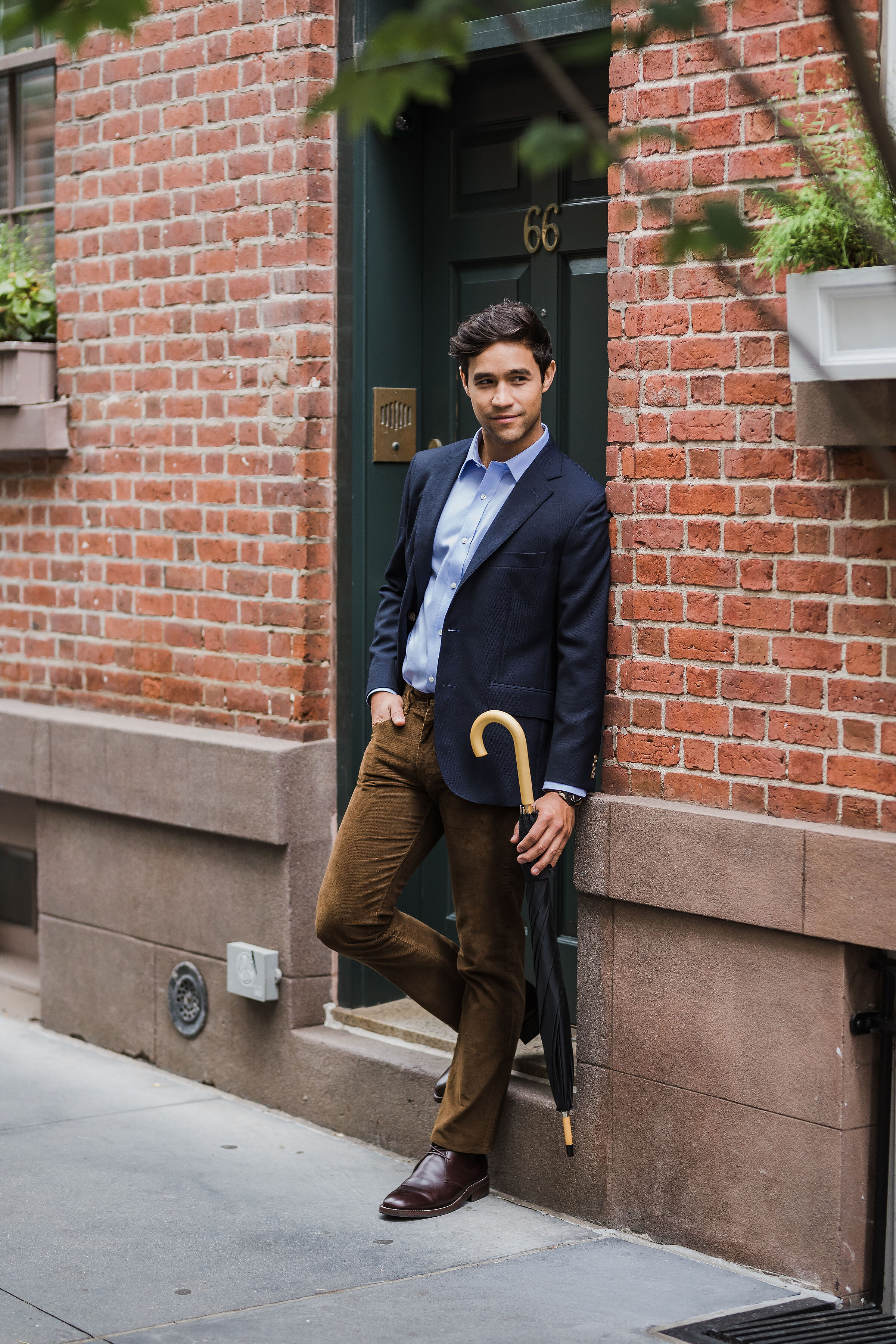 Pajama pants in public also made the definite fashion "don't" list; as Best Life explained, "There's one person who could ever get away with this look, and his name was Hugh Hefner." In addition, shiny "club shirts" are out: "If a shirt looks like it's been pre-treated with Vaseline or you can't look at it directly without wearing eclipse glasses, it's not something that belongs in your closet anymore." 
Over 50 
British men's fashion editor and brand consultant Adrian Clark has worked for the U.K.'s Loaded magazine and The Independent, along with Jasper Conran and Topman. In a recent interview with The Guardian, he underscored several fashion mandates for mature men. "Pants that are oversized, have too many pockets, zippers or surface decoration are definite no-nos." Keep pant styles straightforward with a casual/formal edge—i.e., more relaxed than a dress pant, yet more presentable than pajamas. While chinos are ageless, Clark continued, "Don't cut them too short at the ankle, like the young kids do." 
As with the outdated suits, said Clark, "Another mistake men make is to hold on to things for decades, in the belief that they'll come back into fashion. In theory, that's true—we're having a '90s revival as we speak. But these revivals are intended for a younger generation. Bucket hats, anoraks and fleece tops look great on kids." For men of a certain age, however, "You won't give off the vibe of someone with their finger on the pulse—you'll simply look like that guy who got stuck in the Britpop era." Also on Clark's "to ditch" list for fifty-something men: baseball caps and Hawaiian shirts. 
Overall, following trends is no longer as relevant for men aged 50 and over. "Less is more, both stylistically and in terms of quantity," said Clark. "It's better to have a select number of investment items that cost a bit more and will last longer than a landfill of cheaper alternatives." Rather than traditional corporate suits, he advocated lighter, unconstructed blazers in softer, more casual fabrics. Knits in fine-gauge yarns, he added, "should be at the top of the list of basics. They're a great way to introduce color into your wardrobe." 
For any age, of course, correct fit is crucial—clothing that's too big or too baggy doesn't look good on anyone. At Peter Manning, our proprietary size system is based on height, weight and body type, and specifically designed for the "not-so-tall" guy. And no matter what you're wearing, as Clark summed it up, "You should be giving the impression that you're in control and confident."